One can't help but notice that there's stuff going on onstage, well before curtain time.  Random people – maybe the cast – are talking and moving stuff around.  Musicians are sitting on platforms above the stage, which looks cluttered with stuff.  I've been told that the New York revival was done in the round, with a sand-covered stage in the center.  Apparently the producers tried to duplicate that feeling by adding audience seating on small bleachers.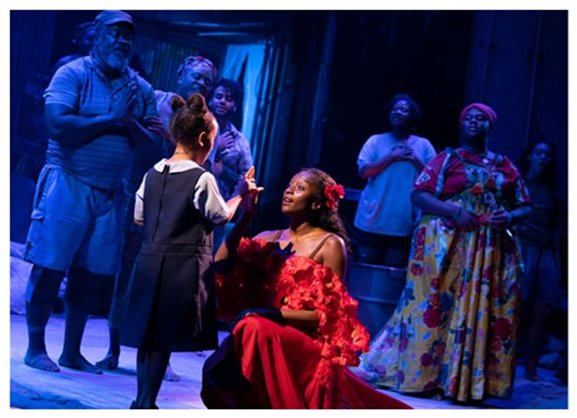 There's something that looks like an extra tall totem pole leaning on one side of the stage.  On the other side, there's a pair of large wrought-iron fence pieces leaning on each other, in front of a large shipping container.  Center stage there's an upside down boat and a pile of sand – I think. 
One night there's a thunderstorm which scares a little girl (Mimi Crossland or Mariama Diop).  To divert her attention from the storm, the village storyteller (Mckynleigh Alden Abraham) tells her the story of a Ti Moune, a peasant girl who fell in love with a rich boy. 
Many years ago, during another storm, the villagers saved a little girl from drowning, naming her Ti Moune (Courtnee Carter).  Four gods; Asaka, Mother of the Earth (Kyle Ramar Freeman); Agwé: god of Water (Jahmaul Bakare); Erzulie, goddess of Love (Cassondra James); and Papa Ge, demon of Death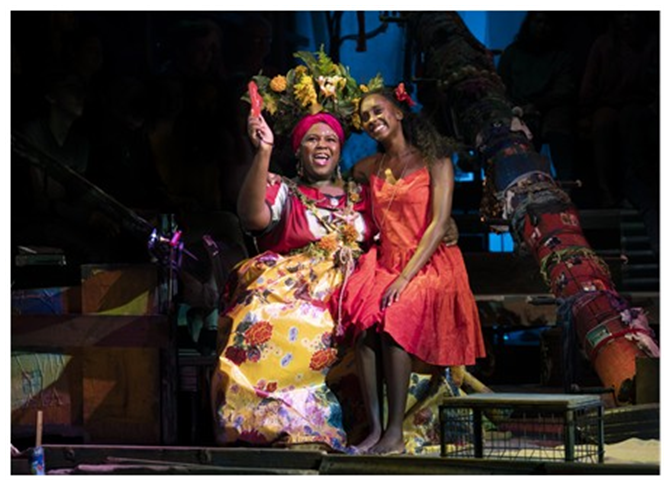 (Tamyra Gray); rule their island.  The poor peasants who live on one side of the island, worship them, the wealthy descendants of the French planters live behind a high fence on the other side. 
When Daniel (Tyler Hardwick) is severely injured in a car wreck, Ti Moune saves his life, falling in love with the handsome stranger.  Daniel barely noticed who cared for him and returns home.  When Ti Moune followed him home, they became lovers.  At a formal affair, Ti Moune showed her love by dancing for him, but he still dumped her for the wealthy girl his parents chose.  Outside the locked gate, Ti Moune grieves for Daniel, refusing to eat, leading to the obvious end.   
"Once on This Island" runs through February 2nd at the Cadillac Palace Theatre, 151 W.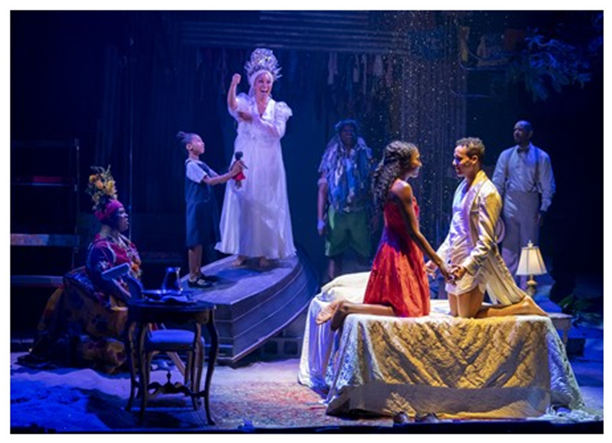 Randolph, Chicago.  The best-priced parking option for Cadillac Palace is the garage on the corner of Franklin and Lake which charges only $13. 
Running time is 90 minutes, no intermission.  Performances are Wednesday, January 29th at 2:00 and 7:30 pm; Thursday and Friday, January 30th and 31st at 7:30 pm; Saturday, February 1st at 2:00 and 8:00 pm; and Sunday, February 2nd at 2:00 pm.  Tickets range from $25-$99.50; special onstage seats are $25.  FYI (312) 977-1710, (800) 775-2000, www.broadwayinchicago.com or www.ticketmaster.com.