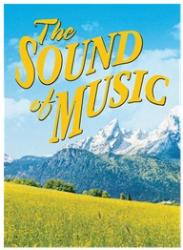 **** Highly Recommended **** Recently, someone asked me why so many theaters choose The Sound of Music?  Simply put – it's one of Rodgers & Hammerstein's classic musicals, it's family friendly and the love story is timeless.  As we were driving to Aurora to see the Paramount Theatre production, I learned that my friend Helen loved the music and knew the words to every song, but that she'd never seen the show.  Afterwards, she said she loved the show, and was glad to finally see how the songs fit into the story.  The music was glorious, the cast is outstanding and the children were delightful.  I give The Sound of Music 4 Spotlights
As the Mother Abbess (Susan Moniz), Sister Berthe (Liz Pazek), Mistress of Novices, Sister Margaretta (Sophie Grimm), Mistress of Postulants, and Sister Sophia (Harriet Nzinga Plumpp), meet to talk about the postulants, they are sidetracked into the problem called Maria.  By the way, Susan Moniz was an awesome Mother Abbess.  Her rendition of Climb Ev'ry Mountain brought down the house! 
Although Maria (Alicia Kaori) begs to stay at the Abbey, Mother Abbess decides to send her to be a governess for the seven von Trapp children, just until September.  Upon her arrival at the von Trapp estate, she's greeted by the butler, Franz (Ron E. Rains) and the housekeeper, Frau Schmidt (Rengin Altay). 
Her employer, Captain Georg von Trapp (Christopher Kale Jones), is a proud man who shut down when his wife died. Although he loves his children, he distances himself from them by treating them like naval recruits – blowing his whistle to summon them – and by leaving them in the care of a series of governesses.  
Maria has no idea how to be a governess, but she wins the children over by teaching them to sing, even comforting them by singing during a thunderstorm.  Determined to get them out of the matching sailor suits, she uses old drapery fabric to make them play clothes, and takes them out for hikes and picnics on the mountain. 
Alicia Kaori plays Maria with joy and youthful spontaneity.  Her Maria isn't thrilled about going to the Von Trapp residence, but she'll make the best of it.  She has an absolutely wonderful voice, too.  I loved hearing her sing Do-Re-Mi and My Favorite Things with the children, who are the heart of The Sound of Music. 
Although all the kids except for Liesl are double-cast, there's no doubt all of them can act and sing just as well as the adults in the cast.  They could have been part of a drill team when they responded to their father's whistle.  Liesl (Julia Aragon) and Friedrich (Gage Richey or Brody Tyner) are young enough to play with their siblings, yet old enough to understand the tense situation around them.  You'll only get glimpses of the personalities of the five younger kids, Louisa, (Maddie Morgan or Kara Reese), Kurt (Ezekiel Ruiz or Charlie Long), Brigitta (Milla Liss or Genevieve Jane), Marta (Savannah Lumar or Avelyn Choi) and Gretl (Ava Barabasz or Lena Soszynski), but they're are cute as they can be – and they can yodel - The Lonely Goatherd! 
Liesl has a tiny crush on Rolf (Michael Harp), the telegraph boy.  Rolf reciprocates that crush in Sixteen Going on Seventeen, a slightly defiant declaration of almost adulthood. 
Elsa Schraeder (played to perfection by Emilie Lynn) is ruthlessly pragmatic.  She's already wealthy (lots of money inherited from her elderly first husband), now she's set her sights on the wealthy and handsome Captain von Trapp.
Max Detweiler (Stephen Schellhardt), who has just enough swagger, is a survivor looking out for number one.  When he hears the children sing, he's determined they will sing in his festival concert, even though he knows their father won't permit it.  His line about his new title … "… before I was Third Secretary." is one of my favorites. 
Both Max and Elsa advise the Captain to go along with the Germans in a song called No Way to Stop It.  When Elsa learns that he would never do that, she broke of the engagement.  Meanwhile a dance demonstration leads to love.  
I quite liked the scenery designed by Jeffrey D. Kmiec.  A majestic faux stone arch with illuminated stained glass rose windows covers the front of the stage.  For the abbey, a huge crescent window flanked by smaller copies windows dominates, with the abbey's cloisters below.  When the story moves to the Von Trapp estate, the arch remains, while the cloisters are replaced by a wall of arched windows behind a grand staircase and a pair of chandeliers.  Smaller set pieces roll in for more intimate locations. 
Note: Masks are encouraged but not required. 
The Sound of Music runs through January 14th at the Paramount Theatre, 23 East Galena Blvd, Aurora.  Valet parking is available, plenty of street parking too.  Running time is 2 hours, 30 minutes, with an intermission. 
Performances are Wednesdays at 1:30 and 7:00 p.m.; Thursdays at 7:00 p.m.; Fridays at 8:00 p.m.; Saturdays at 3:00 and 8:00 p.m.; Sundays at 1:00 and 5:30 p.m. 
There will be additional 1:30 pm matinees on Friday, December 23rd, Thursday, December 29th and Thursday, January 5th. 
There will be no 8:00 pm performance on Saturday, December 24 (Christmas Eve), no performances on Sunday, December 25 (Christmas) and no 7:00 pm performance on Thursday, January 12th. 
Tickets range from $28-$79.  FYI (630) 896-6666 or www.paramountaurora.com