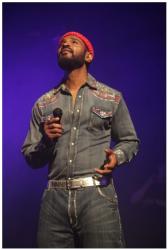 Jarran Muse, who played the young Marvin Gaye, was fabulous.  It's uncanny how much his voice sounds like Marvin.  Chae Stephen played the older
Marvin.  Although his voice was a lot of Marvin's, he wasn't much of an actor.  Krystal Drake, who played Anna Gordy Gaye, had a beautiful voice but seemed to think attitude substituted for acting.  I can't say enough about the fabulous Kourtney Lenton who played Marvin's early singing partner, Tammi Terrell, who died at the age of 24.  Her voice is amazing.  Other speaking/singin parts belonged to Tony Grant (Harvey Fuqua), D'Extra Wiley (Jackie Wilson & Frankie Gaye) and Justin Reynolds (Smokey Robinson). 
I think the easiest thing to do would be to bullet the things I didn't like – since I already mentioned the music! 
Either this show was done on the cheap or the producers are cheap!  There are NO programs.  When I asked about the program situation, I was told that if I wanted to learn about the cast, I could find out all about them online.   If you don't have internet access you will not know who's who on stage. 
The show ran close to three hours – way too long.
The writers lined Marvin Gaye's songs up in more or less chronological order, then made up really bad dialogue to tie them together. 
There were way too many jumps in time.
The segues between songs aka dialogue, was awkward and inane. 
The final scene – with Marvin returning to sing a duet with his wife was ridiculous.
The mic settings were too high or the actors were yelling because it was difficult to understand what they were saying.  
They wasted a lot of time on other people's songs. 
The glorious rays of sun through the dark clouds projected during the gospel songs and Marvin's reincarnation were just tacky.   
The final outrage, in my opinion, was the way they used "I Heard It through the Grapevine", which was one of Marvin Gaye's best songs.  The song started, people in the audience were rocking & singing along, and the song trailed off.  They used it as a segue, never even finishing the song!     
"Pride and Joy" has closed after their five days at the Chicago Theatre and gone on to Houston.  If the show comes back, my advice, skip it!