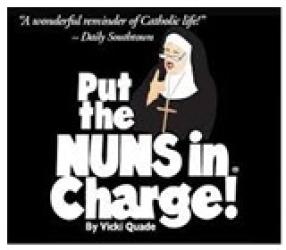 **** Recommended **** After selling out a performance of Late Night Catechism during the winter, Theatre at the Center brought Sister back in Put the Nuns in Charge, another in the Nuns 4 Fun series developed by Vicki Quade.  Quade herself came to Munster for this performance and Mother Superior had everyone laughing.  3 ½ Spotlights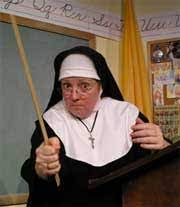 Mother Superior was in charge from the very beginning.  When a hapless tech lowered the lights, she got out her ruler.  She wanted to see the audience, since this is a completely interactive show. 
With a list of the seven deadly sins already written on the blackboard, Mother Superior poked fun at everything from celebrities to cell phones.  In fact, she confiscated a couple of phones that had the temerity to ring while she was talking. 
When she asked the audience if anyone went to Catholic school, a lot of hands went up.   When she asked about public school (horrors), there were quite a few hands.  She even asked about religion – finding a lot of Protestants and at least one Jewish lady in the audience.  Lots of her jokes went back to those experiences. 
May queen was a big topic.  Were you – just one or two hands up.  You were not – most people.  Did you want to be – a few more.  Mother Superior called the ladies who had been May queen up on stage.  Then she called a lady who'd wanted to be May queen up on stage.  While the audience sang the May queen song (a hymn to Mary), she recreated the whole experience. 
If you've never been to one of the Nuns 4 Fun shows, you wouldn't know that it raises money for sisters' retirement funds.  At the end of every show, a collection is taken up for a local order.  According to Quade, they've donated more than $2 million to nuns across the country over the last 10 years. 
When Mother Superior specified the Carmelites after this performance, but questioned whether that was a local order, audience members were quick to tell her about the Carmelites in northwest Indiana and the recent fire at the Carmelite Home in East Chicago.  I think the audience members were very generous, judging by the $$$ on the bills I saw in the basket!