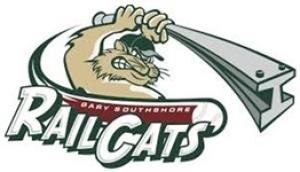 Despite a brilliant Gary SouthShore RailCats (12-15) pitching display during the game's first six innings, the Cleburne Railroaders (14-13) scored in bunches down the stretch en route to a 10-5 win.
Edward Cuello got the ball for the RailCats and delivered a second consecutive sensational outing.  Coming off a six-inning, one-run performance against the Sioux Falls Canaries, the right-hander matched those numbers, allowing just three hits with six strikeouts to boot.
Gary SouthShore's bats helped Cuello out in the early stages as well.  Daniel Lingua launched his third home run of the season, a solo shot that landed in the RailCats bullpen to give the 'Cats a 1-0 advantage.
The lead grew larger just one inning later.  Emmanuel Tapia walked, and LG Castillo split the left-center field gap, scorching an RBI double.  The third two-bagger in the last two games extended the RailCat's lead to two.  Jose Contreras then connected on his first Gary SouthShore hit two batters later, depositing a single in left field to score Castillo, placing the RailCats ahead 3-0 heading into the fourth.
However, between the sixth to eighth innings, Cleburne rattled off 10 unanswered runs to flip the game.  The Railroaders took a 10-3 lead into the bottom of the ninth.
For a third time in the series, the RailCats formed a late-game rally to give themselves a chance.  Lingua picked up his second hit of the night to lead off the frame and scored on a Gio Díaz single.  Castillo drove home the final RailCats run through a sacrifice fly before Cleburne closed it out and secured the victory.
The RailCats return for the penultimate game of their six-game set against the Railroaders tomorrow night at 4 p.m. from The Steel Yard.  All the action will be streamed on www.aabaseball.tv and broadcast over the radio on 95.9 WEFM and the Gary SouthShore RailCats Broadcast Network via the Mixlr app.