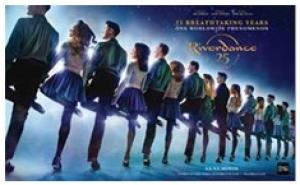 For the 25th Anniversary Show, once again Irish history and traditions are honored with song and poetry narrated by John Kavanagh.  An unnamed female member of the company sang the Irish airs in a pleasing soprano voice.  She's a pretty good dancer, too, since I saw her join the troupe in the vaguely Appalachian "American Wake".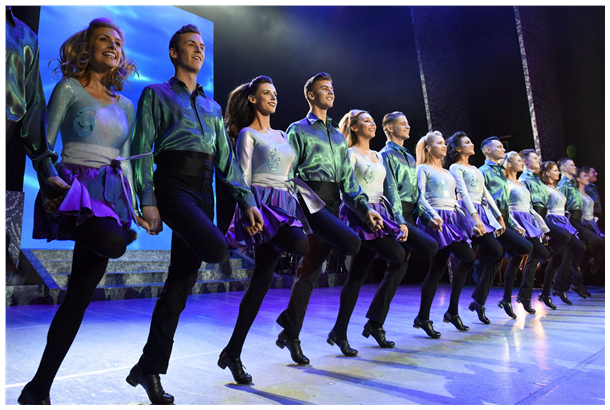 The Riverdance Irish Dance Troupe are known for their precision dancing.  Most people have probably seen them dance in a line, but when they start moving about the stage, the patterns are quite intricate. 
The members of the Troupe are: Brandon Asazawa, Darren Casey, Courtney D'Angelo, Fiona Dargan, Kevinah Dargan, Fergus Fitzpatrick, Michael Gardiner, Zachary Klingenberg, Erin Lynch, Greg Molony, Olivia Nachtigal, Londyn Nachtigal, Kelsey Micko, Sarah Oldam, Louise O'Sullivan, Brian Shinners, Lauren Smyth and Jack Quinn.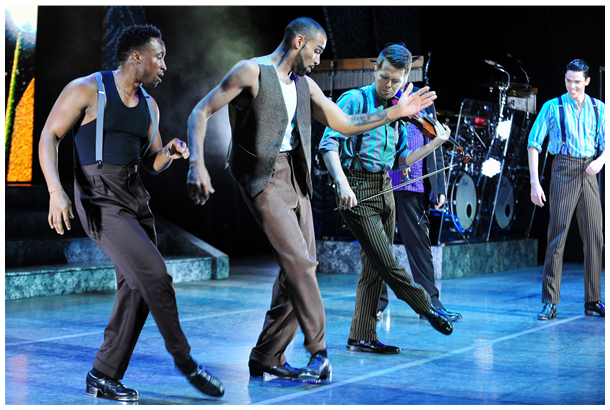 Six dancers alternate as featured dancer on any given night: Will Bryant, Maggie Darlington, Anna Mai Fitzpatrick, Patrick O'Mahony, Jason O'Neill and Gianna Petracic.  Jason O'Neill and Maggie Darlington were featured opening night.  O'Neill has to have the fastest feet I've ever seen.  His tap dance 'duel' with American jazz tappers, Lamont Brown and Tyler Knowlin, was truly awesome and a real crowd pleaser.  
Gorgeous projections ranging from the stars in the sky to an Irish mountain provide background.  The Riverdance Band has pride of place on stage.  The musicians are: Musical Director Mark Alfred (Drums, Percussion, Bodhrán); Haley Richardson (Fiddle); Emma Frampton (Saxophone); Tara Howley (Uilleann Pipes, Low Whistle, Tin Whistle, Concertina).  Each musician has at least one solo.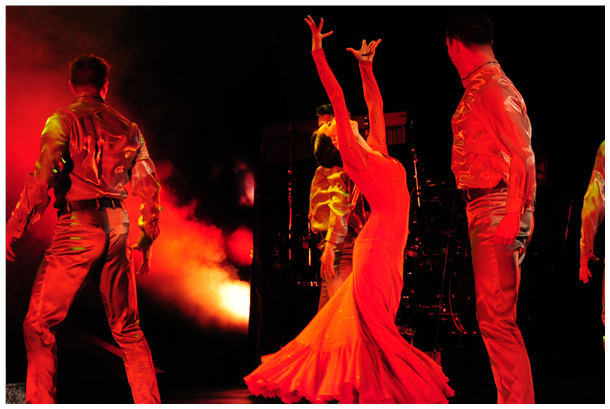 Flamenco soloist Rocio Montoya danced "Fire Dance" in a fiery red dress.  Her graceful hand movements simulated castanets, which were actually played by percussionist Mark Alfred.  Her second act solo, which included a dance-off with the Riverdance Male Principle, "Ritmos Del Corazon/Andalucia" was phenomenal. 
The Russian Folk Dance Troupe – Alisa Bashirova, Ekaterina Brovkina, Rigat Gabdulkhakov, Alexander Safonov, Ana Turcan and Eugeniu Turcan – amaze with leaps and tricks.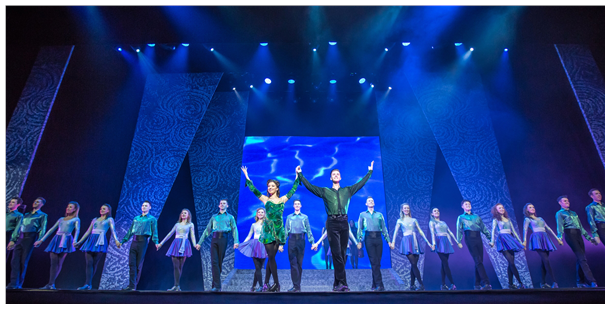 "Riverdance" runs through February 9th at the Cadillac Palace Theatre, 151 W. Randolph, Chicago.  The best-priced parking option for Cadillac Palace is the garage on the corner of Franklin and Lake, $14.    Running time is 2 hours with an intermission.   Remaining performances are Thursday at 7:30 pm; Friday at 7:30 pm; Saturday at 2:00 and 8:00 pm; Sunday at 2:00 pm.  Tickets range from $32-$90.  FYI (312) 977-1710, (800) 775-2000, www.broadwayinchicago.com or www.ticketmaster.com.