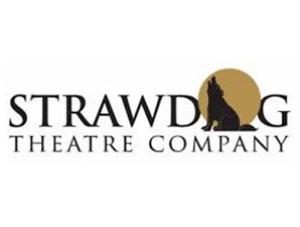 Friday, September 25, 2020 at 5:30 pm and 7:30 pm
The Four
An original poem performed live by Strawdog ensemble members that speaks to the company's four core values – community, challenge, ensemble and genuine connection – and their effect on our past, present and future. Written and directed by interim artistic director Kamille Dawkins, The Four will be broadcast on Facebook Live at www.facebook.com/strawdogtheatre. Casting will be announced shortly. The performance is FREE with a suggested donation of $15. For additional information, visit www.strawdog.org.
October 2 – 25, 2020
Run The Beast Down – Digital U.S. Premiere!
Charlie has lost his job, his girlfriend and countless hours of sleep. Worse still, he's being haunted by a fox. Set in London after the 2008 financial crash, British playwright Titas Halder's play takes us on the rollercoaster of one man's obsession. Directed by ensemble member Elly Green and featuring Gage Wallace, Run The Beast Down is a thrilling experiment in intimate storytelling. Following the production, Strawdog will make a donation to Lakeview Pantry, an organization that works to overcome hunger, improve mental wellness, and achieve life goals.
December 5 – 20, 2020
Hershel and The Hanukkah Goblins
Strawdog is bringing back its holiday family favorite Hershel and the Hanukkah Goblin, reimagined to be enjoyed in the comfort of your home. Based on the award-winning book by Eric Kimmel, Hershel is adapted by ensemble member Michael Dailey*, with music and lyrics by Jacob Combs and direction by Spencer Ryan Diedrick. Following the production, Strawdog will make a donation to The Jewish Council on Urban Affairs, working to transform Chicago into a city free of poverty, racism and antisemitism.
March 8 – 28, 2021
How Do We Navigate Space?
A series of video monologues sourced from our Chicago community, that explore true stories of how we navigate physical space and what that says about our society during a time of pandemic and social justice. Directed by Denise Yvette Serna. Following the production, Strawdog will make a donation to Black Lives Matter Chicago.
Comments Interim Artistic Director Kamille Dawkins, "There are so many questions and unknowns. We as a company, have seen our own ups and downs, but we hold true to our values. We are desperate to engage and give back to our community. Each piece of our virtual season will explore experiences of what is possible during times of challenge. For each production, we will make a donation to charities bettering our Chicago Community"
Tickets for Strawdog Theatre's 2020-21 season will go on sale at a later date at www.strawdog.org.
*Denotes Strawdog ensemble/company members.
About the Artists:
 Kamille Dawkins (Writer/Director, The Four) is a Chicago based theatre artist and the Interim Artistic Director of Strawdog Theatre Company. She has performed as an actor, singer, musician and theatre deviser in Chicago since 2016, following her nine month Emerging Professional Residency at The Milwaukee Repertory Theater. Kamille is also an ensemble member of Strawdog Theatre Company and One Year Chekhov.
Titas Halder (Playwright, Run The Beast Down) is a writer, director and musician, working across theatre, film and music. As a writer, he trained on the Royal Court Theatre Young Writers' Programme. His first play Run The Beast Down won Titas a nomination for best writer at the Stage Debut Awards 2017, and won Ben Aldridge best male performance at the OffWestEnd Awards 2018. His new play The Basement was shortlisted for the Verity Bargate Award 2017. He is currently under commission to Out of Joint to adapt a Shirley Jackson novel for the stage, and to Frogspawn Film for his first feature screenplay. His plays are published by Oberon Books. Represented by Kara Fitzpatrick at Dalzell and Beresford.
Elly Green (Director, Run The Beast Down) is a Chicago-based director, originally from the UK. Her recent credits include: The Effect by Lucy Prebble (Strawdog Theatre), Yen by Anna Jordan (Raven Theatre) and In the Canyon by Calamity West (Jackalope Theatre). Other credits include: You for Me for You, No More Sad Things (Sideshow), Pillars of the Community, The Night Season, After Miss Julie (Strawdog), The Woman in Black (Wildclaw), The Distance (Haven), The Woman Before (Trap Door) and Rabbit (Stage Left). Elly is an ensemble member with Strawdog Theatre and Sideshow Theatre. She trained in the UK at Birkbeck College, LAMDA and the National Theatre Studio.
Eric Kimmel (Author, Hershel and the Hanukkah Goblins) is the author of over 130 books for children, including Anansi and the Moss-Covered Rock and the classic Hanukkah tale, Hershel and the Hanukkah Goblins. He is a five-time winner of the National Jewish Book Award and the Sydney Taylor Award for Lifetime Achievement. Dr. Kimmel and his wife Doris live in Portland, Oregon. 
Michael Dailey (Book and Adaptation, Hershel and the Hanukkah Goblins) has appeared as an actor in 24 mainstage productions with the company since joining Strawdog in 1997. Writing credits include three radio plays presented as part of Radio Theatre 7, co-writer on the late night series The Adventures of Picklebot and Lawfer and script editor for Strawdog's productions of 1001 Afternoons in Chicago, Julius Caesar and Measure for Measure.
Jacob Combs (Music and Lyrics, Hershel and the Hanukkah Goblins) is a writer, director and composer based in Los Angeles. In addition to the 2018 premiere production of Hershel and the Hanukkah Goblins, his previous musical theater projects include Palin! The Musical (music and lyrics), Unraveling (book, music and lyrics), Falling Apart, Coming Together (music and lyrics) and Legends & Lore (book). He is currently writing the book, music and lyrics for the musical Selling Out, which was workshopped at Chicago's Strawdog Theatre in June 2018. Jacob's first short film as writer/director, Without, premiered earlier this year, and is currently on the festival circuit, having played at over 15 U.S. and international festivals so far. His short screenplay Messrs. is being produced through the AfterWORK program at Pixar Animation Studios, where Jacob works in the creative development department.
Spencer Ryan Diedrick (Director, Hershel and the Hanukkah Goblins) is humbled to reunite with the good folx of Strawdog, where he served as Assistant Director on Cymbeline, Once in a Lifetime and 20,000 Leagues Under the Sea. Other directing credits include Black Cat Lost (Red Tape), Desire, Desire, Desire (Eclipse), A Song at Night and Future of Helium Uncertain (American Blues), This Random World (Route 66), Touching/Separate ((re)discover theatre), Heel Shoot & Face Work (Dandelion) and Sweet Sixteen Extravaganza!!! (Blue Goose Theatre Ensemble). His work has also been seen at Griffin, Emerald City, Raven, TimeLine, Back Room Shakespeare Project, Collaboraction, the side project, The Neo-Futurists and The Runaways Lab Theater. Spencer is a proud Company Member with Red Tape Theatre, where he also serves as the Audience Engagement Manager.
Denise Yvette Serna (Director, How Do We Navigate Space?) is a theatre practitioner and arts activist. She is co-founder of Global Hive Laboratories, an international collective of artists working toward a global theatre. Chicago directing and curating credits include productions with The Latinx Theatre Commons, Steppenwolf Theatre Company, Pop Magic Productions, Victory Gardens Theater, El Semillero, Steep Theatre Company, Circle Theatre Chicago, Pride Films & Plays, 20% Theatre Company and inappropriate theatre company. Denise is committed to supporting arts organizations as they champion the ideals of equity, diversity, access and inclusion into their programming and internal operations and move forward as transformative Anti-Racist forces in their communities. deniseyvetteserna.com
About Strawdog Theatre Company
Since its founding in 1988, Strawdog Theatre Company has offered Chicagoland the premiere storefront theatre experience and garnered numerous Non-Equity Jeff Awards with its commitment to ensemble acting and an immersive design approach. The celebrated Company develops new work, re-imagines the classics, melds music with theatre, asks provocative questions and delivers audiences the unexpected.
Strawdog Theatre Company is supported in part by The MacArthur Fund for Arts & Culture at the Richard H. Driehaus Foundation, the Gaylord and Dorothy Donnelley Foundation, the Alphawood Foundation, The Elizabeth F. Cheney Foundation and the Illinois Arts Council Agency.