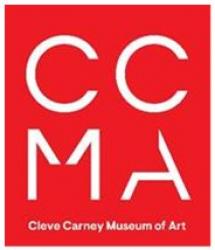 The Cleve Carney Museum of Art (CCMA) and McAninch Arts Center (MAC), located at 425 Fawell Blvd. on the College of DuPage campus, today announced that the museum's inaugural exhibition, Jesus of Western Avenue, will feature more than 30 recent works by world-renowned multimedia artist and celebrated Chicago resident Tony Fitzpatrick. With work in the permanent collections of The Metropolitan Museum of Art, the Museum of Modern Art, The Art Institute of Chicago and the Museum of Contemporary Art in Miami, Fitzpatrick has also created album art for music icons including Lou Reed, Steve Earle and The Neville Brothers. Fitzpatrick is best known for his multimedia collages, printmaking, paintings and drawings. The exhibition will run from Saturday, Oct. 3 to Sunday, Dec. 6 and will be free and open to the public.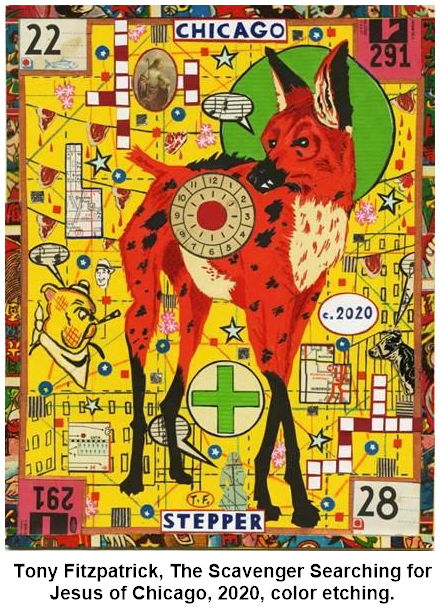 Coinciding with the release of Fitzpatrick's book, Jesus of Western Avenue, the exhibition will feature prints, drawings and collages. These graphically rich and inventive works deliver messages and stories that reflect on the artist's connection to Chicago, his social and political concerns and our shared changing reality. "While Tony's artwork is deeply influenced by the Chicagoland area it is recognized around the world," said Cleve Carney Museum of Art Curator Justin Witte. "Tony is one of the most well-known artists working in Chicago today and we are thrilled to be able to open our new space with an exhibition of his work."
"We couldn't think of a better artist than Tony to celebrate the opening of the new museum in an arts center," said McAninch Arts Center Director Diana Martinez. "He is an actor, a writer, an alum of the College of DuPage, a world-renowned artist and was a close friend of the late Cleve Carney who is CCMA's namesake, there is no one more fitting. We are honored to welcome him home for our inaugural exhibition."
"It's fitting that I have my final museum exhibition not far from where my work started. It's fitting that it happens in a museum named for my dear friend and supporter Cleve Carney; he was a grand guy; whom I met while caddying for his father Marv Carney," said artist Tony Fitzpatrick. "I chose to make art, not for a living, but for a life. Cleve chose to create opportunity and possibility for artists - myself being one of them. So much of my creative life began at the College of DuPage. I did my first acting here. I started to seriously write poetry here. I made artmaking my life here. This place has grown amazingly since I left. Mostly because of the great Hal MacAninch, another grand presence who led by example, and with great integrity. My fondest hope for my final museum show is that it honors these men. My city. And all who have passed through these doors."
CCMA and MAC plan to implement timed entry and design social distancing measures into the layout of the museum in accordance with CDC regulations. Visitors will also be required to reserve tickets online in advance, in order for them to view the exhibition in the safest way possible. 
A schedule of opening events celebrating the inauguration of the museum will be announced at a later date.
About the Cleve Carney Museum of Art
The late Cleve Carney provided a significant legacy gift to establish the Cleve Carney Art Gallery at College of DuPage. The gallery opened in February 2014 with its inaugural exhibition Selections from Cleve Carney's Art Collection. The gallery will be expanding to a 2,500 square-foot museum, the Cleve Carney Museum of Art, scheduled to open this fall. The museum will maintain the standards set by the American Alliance of Museums. More information can be found at www.TheCCMA.org or by calling 630.942.3206.
About the MAC
The McAninch Arts Center at College of DuPage is located 25 miles west of Chicago near I-88 and I-355. It houses three indoor performance spaces (the 780-seat proscenium Belushi Performance Hall; the 236-seat soft-thrust Playhouse Theatre; and the versatile black box Studio Theatre), the outdoor Lakeside Pavilion, plus the Cleve Carney Museum of Art and classrooms for the college's academic programming. The MAC has presented theater, music, dance and visual art to more than 1.5 million people since its opening in 1986 and typically welcomes more than 100,000 patrons from the greater Chicago area to more than 230 performances each season.
The mission of the MAC is to foster enlightened educational and performance opportunities, which encourage artistic expression, establish a lasting relationship between people and art, and enrich the cultural vitality of the community. Visit AtTheMAC.org or facebook.com/AtTheMAC for more information.
About Tony Fitzpatrick
Tony Fitzpatrick is a Chicago-based artist best known for his multimedia collages, printmaking, paintings, and drawings. Fitzpatrick's work are inspired by Chicago street culture, cities he has traveled to, children's books, tattoo designs, and folk art. Fitzpatrick has authored or illustrated eight books of art and poetry, and, for the last two years has written a column for the Newcity. Fitzpatrick's art appears in the Museum of Modern Art in New York City, the Museum of Contemporary Art in Chicago, and the National Museum of American Art in Washington, DC. The Neville Brothers' album Yellow Moon and the Steve Earle albums El Corazon and The Revolution Starts Now also feature Fitzpatrick's art. In 1992, Fitzpatrick opened a Chicago-based printmaking studio, Big Cat Press, which exists today as the artist exhibition space Firecats Projects. Before making a living as an artist, Fitzpatrick worked as a radio host, bartender, boxer, construction worker, and film and stage actor.