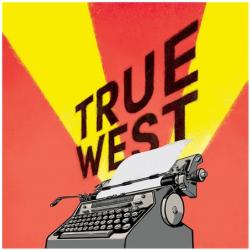 ****Recommended **** "True West" is not a new play – in fact, it was written in 1976 – but for some reason, I'd never seen it.  I'd heard about it of course, after all it is the play that rocketed Steppenwolf Theatre into the national spotlight.  Now that I've seen it, I can tell you that it is one of those plays that you watch in a kind of horrified fascination, finding yourself thinking, "that can't be good".  "True Love" will reach out and grab your attention.  4 Spotlights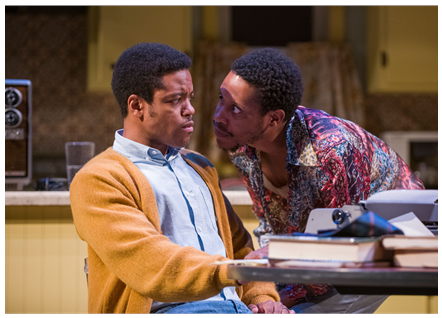 "True West" is a story of brothers, one good, the other not, who bring out the worst in each other.   Austin (Jon Michael Hill) is the golden child who did everything right.  He stayed out of trouble, got good grades and went to a good college.  His brother Lee (Namir Smallwood), who hung around with a bad crowd, was frequently in trouble with the law.  The brothers haven't had any contact recently. 
Austin, a scriptwriter, is house-sitting – mostly to keep the plants watered – while his mother takes a cruise to Alaska in the desert – and working on a story treatment.  Since the story is set in the '70s, he's using a typewriter, with carbon paper, and the phone has a cord!  Austin is waiting on a phone call from a producer he knows who happens to be vacationing in the desert.  He thinks there's a chance the producer might be interested in his original script.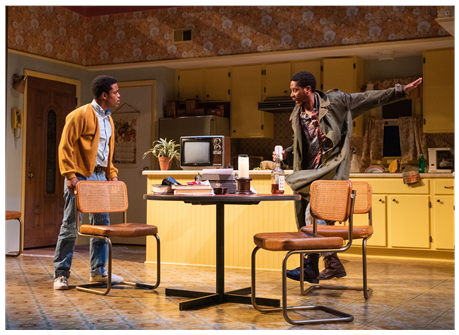 When someone breaks into the house, Austin gets an unpleasant surprise, which turns out to be his brother.  Lee is equally surprised to see Austin – and not too happy about it either, since he thought he was breaking into an empty house where he could possibly liberate a few easily sellable things.  Lee is flexible, however, he can liberate just as easily from other homes in the neighborhood.    
The brothers quickly fall into their childhood roles – Lee, the manipulating, bullying, older brother and Austin, the intimidated, cowed younger.  It's plain to see that adult Austin is still afraid of his brother, whose conversational style requires 'in-your-face' intimidation.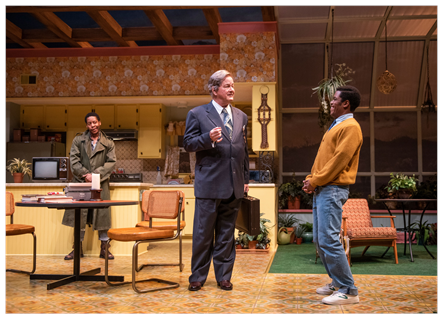 When Austin finally got that important call from Saul Kimmer (Francis Guinan), he invited him over to the house, but only after asking Lee to be somewhere else during the meeting.  Lee agreed, but demanded Austin's car keys in exchange.  Austin was thrilled when Saul said he liked Austin's treatment, but then Lee came back.  After a few minutes of his manipulation, Saul had agreed to a golf game. 
After winning Saul's golf clubs through skillful cheating, Lee started talking about his idea for a screenplay.  Eventually, he got Saul's agreement – he'd produce it and he hired Austin to write it.  Of course that meant that Austin's script would have to be postponed. 
The first thing Lee did after he broke in was find his mother's stash of booze.  For the rest of the drama, he always has a bottle – beer or the hard stuff - in his hand.  He never seems to sleep, and the longer he drinks, the more volatile he gets.  Eventually, while dictating his screenplay to Austin, he 'kills' the typewriter with a golf club. 
When Mom (Jacqueline Williams) returns early from her trip, she finds her house trashed and her plants dead.   As the situation is escalating, she mutters something to herself about being fed up, and stomps out the door, dragging her suitcase behind.      
The original Steppenwolf production featured Jeff Parry and John Malkovich as the brothers, Laurie Metcalf as their Mother.  Francis Guinan originated the role of Saul, which he revisits in this production. 
"True West" runs through August 26th in the Downstairs Theatre, Steppenwolf Theatre, 1650 N. Halsted, Chicago.  Both free and valet parking are available.  Running time is 2 hours, 15 minutes, with an intermission.  Performances are Tuesday through Friday at 7:30 pm; Saturday and Sunday at 3:00 and 7:30 pm.  Tickets range from $20-$96.  FYI (312) 335-1650 or www.steppenwolf.org.