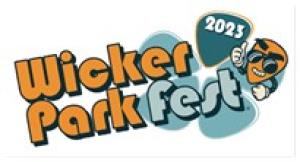 The Wicker Park Bucktown Chamber of Commerce today announced the headlining music acts for Wicker Park Fest 2023, sponsored by Goose Island Beer Company and Chitiva Dispensaries. As Chicago's most anticipated summer festival, attracting more than 75k+ visitors from across Chicagoland and around the country, the three-day festival will take place July 28 – 30 and will feature more than 50 acclaimed live acts performing original music. Featured headliners include Built to Spill, The Regrettes, Biig Piig, Say She She, BabyJake, Lido Pimienta and more to be announced at a later date.  
Photo credit: Wicker Park Bucktown Chamber of Commerce 
As the longest street festival on the North Side, stretching along Milwaukee Avenue from Damen to Ashland, Wicker Park Fest celebrates the neighborhood's rich musical heritage, vibrant nightlife and top-notch restaurants. Alongside its stellar music performances, the fest will feature a variety of arts and culture initiatives, including art installations, international dance performances, a family-friendly kid's area, a range of local food options from acclaimed restaurants and cafes and more than 150 brick & mortar shops including bookstores, vintage sellers and more.  
"For almost twenty years, Wicker Park Fest has been more 'music festival' than 'street festival,' bringing dozens of emerging and established music acts to the stage for thousands of Chicagoans and visitors to become fans of and watch grow," said Wicker Park Bucktown Chamber of Commerce's Pamela Maass. "Beyond our music lineup, festival goers will also notice that Wicker Park Fest is back to full size, the first time since the pandemic. This means visitors can expect a full selection of vendors, shops and artists to discover and enjoy." 
As Wicker Park Fest is known to be an incubator for emerging talent, the featured acts are hand-picked by a staple in the Chicago music scene, Subterranean. Featured headlining acts for this year include the illustrious L.A.-based rock group The Regrettes, who performed on Good Morning America, Jimmy Kimmel Live! and Conan, indie rock group Built to Spill, led by vocalist and guitarist Doug Martsch that topped the charts in the 90's and recently released a new album, popular UK neo soul artist Biig Piig, alternative singer, songwriter and producer BabyJake, Colombian Canadian solo artist Lido Pimienta, who was featured on NPR's Tiny Desk Concerts series.  
Past performers at Wicker Park Fest have soared in their careers, with many moving on to perform at Pitchfork and Riot Fest, including Grammy-nominated electronic music duo ODEZSA, Billboard-charting alternative group PUP, along with Viagra Boys, Snail Mail, NNAMDÏ and more.  
Other artists announced for 2023 include indie rockers Speedy Ortiz and The Good Life, in addition to New York rapper billy woods, and Minneapolis singer-songwriter Miloe. A hip-hop open mic will also take place on the Center Stage on Saturday, and a Dark '80s New Wave Nite on the South Stage on Sunday. The full schedule will be announced at a later date.  
A $10 donation at the entry gate is encouraged, which will benefit the nonprofit Wicker Park Bucktown Chamber of Commerce and help fund next year's fest. In the interest of preventing long lines at entrances and vendor stalls stemming from card transactions, attendees are advised to bring cash. Wicker Park Fest's 19th iteration will be the first to be presented at its full scale since the COVID-19 pandemic. 
For more information, visit WickerParkFest.com and follow Wicker Park Fest on Facebook, Instagram and TikTok.  
About Wicker Park Bucktown Chamber of Commerce
The Wicker Park Bucktown Chamber of Commerce serves as a cornerstone of the Wicker Park and Bucktown commercial districts, advancing the financial goals of neighborhood businesses through the creation of a dynamic economic climate, increasing the neighborhood #39's visibility and viability, and encouraging profitable relationships within the community. The Chamber administers Special Service Area (SSA) #33, guided by a volunteer Commission of SSA taxpayers who serve on active committees. For more information, please visit wickerparkbucktown.com.