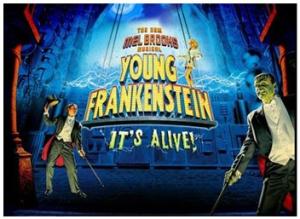 *** Recommended *** For their first show in three years, Marian Theater Guild wanted to do a show that would make people laugh.  They picked the right show!  Young Frankenstein is a Mel Brooks show, so it has lots of throwaway lines.  If the 1974 movie starring Gene Wilder and Peter Boyle made you laugh, you'll love this musical adaptation.  Young Frankenstein is a northwest Indiana must-see. 
Somewhere in Transylvania, Ziggy (Ian Horn) and the villagers are celebrating around the open grave of Dr. von Frankenstein – The Happiest Town in Town.  Inspector Kemp (Ray Huntington), who has a wooden right arm and a wooden left leg, ruins the moment with news that Victor ha a grandson.  Inspector Kemp is good for sight gags throughout the show as he manipulates the arm into making grand gestures. 
Dr. Frederick Frankenstein (Elliot Bibat) has spent his whole life ignoring his infamous grandfather.  In fact, he pronounces his name "Fronkensteen".  A scientist, he teaches medicine at New York's finest medical school, "Johns, Miriam and Anthony Hopkins School of Medicine".  I loved the clever lyrics in Frederick's wistful song about The Brain.
When Frederick learns that his grandfather has died, he decides to go to Transylvania to settle his grandfather's estate and sell the castle.  His girlfriend, Elizabeth Benning (Shannon Knoerzer), refuses to go with him and then, won't even kiss him goodbye, showing her true feelings as she sings Please Don't Touch Me. 
Arriving in Transylvania, Frederick meets Igor (David Arroyo), who has already hired Inga (Kaitlyn Kovach) as a lab assistant for him.  At the castle, odd things keep happening – like ghost of Victor Von Frankenstein (Ken Bobos) popping in and out, Igor's (pronounced Eye-gore) hump moving from side to side; horses that whinny whenever anyone says the name of the strange housekeeper, Frau Blucher (Caroline Herrera).  By the way, she brought down the house with her bawdy tribute to Victor, He Vas My Boyfriend.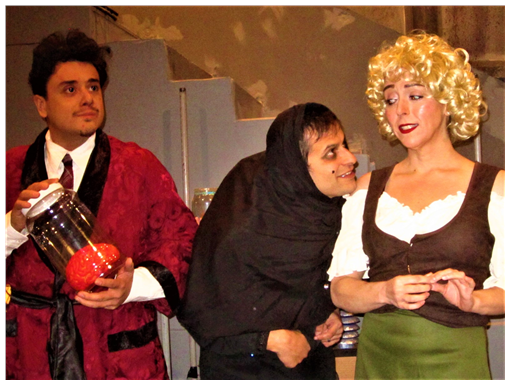 (l - r) Elliot Bibat as Frederick Frankenstein, Kaitlyn Kovach as Inga & David Arroyo as Igor
Once Frederick and Inga figure out how to get through a bookcase/wall that can only be opened with a candlestick, they find Victor's lab.  Once Frederick finished reading his journals, he decided to duplicate his experiments. 
The Monster (Thomas Knoerzer) comes to life just in time to scare the suspicious villagers in spite of the efforts of Victor, Igor and Inga to divert them – and Inspector Kemp – with a song and dance, Transylvania Mania.
Since this is a Mel Brooks creation, you can expect lots of sight gags, pratfalls, and imported bits, lines – even songs – from other shows.  In one funny interlude, the escaped Monster finds refuge with a blind Hermit (Travis Ziegler) who craves company.  He moves the chair just as the Monster tries to sit.  He pours hot tea into the Monster's lap instead of the cup, actually gets the refill in the cup, but then smashes the cup while toasting his guest. 
The signature moment (and my absolute favorite) of the show – Frederick, The Monster and the ensemble, all dressed in top hats and tails, dancing and singing to Irving Berlin's 1928 song, Puttin' on the Ritz.
The Ensemble includes: Angela Avorio, Ken Bobos, Susan Bobos, Bridget Barnett, Alexis Cameron-Hecker, Kristin Gorski, Philip Kizziah, Amanda Koch, Wendy Lung, Richard Nordyke, Alyna Prisby, Olivia Rhodebamel, Tony Vivacqua, Emily Yovich and Travis Ziegler. 
Kudos to Co-Directors Betty Jo Diaz and DeeJai Halicky, Choreographers Susan Bobos and Emily Yovich and the rest of the cast and crew for a job well done. 
Young Frankenstein runs through November 20th at Marian Theatre Guild, St. John the Baptist School, 119th and Lincoln, Whiting.  Parking is free.  Running time is approximately 2 hours, 30 minutes with an intermission.  Performances are Saturdays at 8:15 and Sundays at 3:00 pm.  Adults $17, Seniors/Students $15.  FYI 219-473-7555.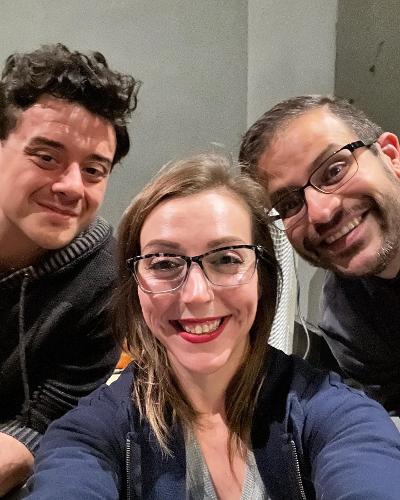 Without the makeup, (l - r) Elliot Bibat as Frederick Frankenstein, Kaitlyn Kovach as Inga & David Arroyo as Igor